Crashworthiness & Impact
---
Impact simulation is one of the most demanding applications of FEA, in terms of experience and complexity, as well as raw computational power. TSI was founded on advanced impact simulation, particularly in the automotive structures safety space. We have decades of validated experience performing high deformation and high strain rate simulation for a variety of clients both inside and outside of the mobility industry.
Using LS-DYNA as our core explicit solver, we have competed full vehicle crash simulations on many commercial and niche vehicle programs. We have further evaluated drop-test and mechanical impacts on components and systems in consumer products and on industrial equipment.
Applications of Impact FEA include simulation of helmet impacts, drop testing of electronic enclosures, ballistics and blast effects, as well as virtual crash testing of vehicles.
Resources and Experience:
Advanced explicit solutions using LS-DYNA and RADIOSS
Vehicle barrier and dummy models
Experience developing models and correlating results to test
Nonlinear material modeling in metals, nonmetals and composites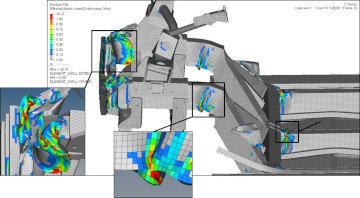 TSI has completed and validated full vehicle and subsystem crash/impact scenarios for a full suite of C/FMVSS requirements, as well as several related ECE regulations, including;
FMVSS 202 - Head Restraints
FMVSS 206 - Door Locks and Retention Components
FMVSS 207/210 - Seat anchorages
FMVSS 208 - Occupant Crash Protection
FMVSS 214 - Side Impact
FMVSS 216 - Roof Crush
FMVSS 225 - Child Restraint Anchorages
FMVSS 301 - Fuel System Integrity
Simulations have been completed for many different materials including steel, HSS, aliuminum, magnesium, polymers and composites.
The complexity of such programs (from both technological and regulatory aspects, but also from an efficient business case standpoint) is extensive and we encourage program directors to contact us for further discussions.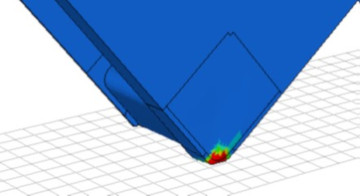 TSI has experience in simulating electronics assemblies (PCB, chassis, internal COTS components, housings) undergoing various load case scenarios. Shock and vibration test simulation allows the designer to have virtualized "test-in-the-loop" with the end effect being overall shorter time to delivery for full systems to the end customer.
Simulated Test Procedures include: GM3172:: Section 7.3 Analysis - Mechanical, SAE J1211_201211:: Robustness Validation of Automotive Electrical/Electronic Modules, SAE J1455, MIL-STD-810G, RTCA DO-160: 7.0, 8.0